The Los Angeles Times New Standard Atlas of the World - 1890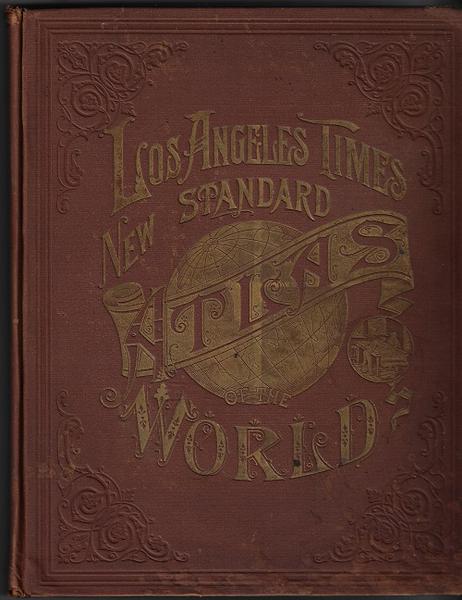 Los Angeles – The Times-Mirror Co. LOS ANGELES TIMES NEW STANDARD ATLAS OF THE WORLD. 1890. Cloth. Folio. 196 pgs (2), 84 maps (36 double page), advertisements, diagrams and tables, engravings, plus historical and descriptive information on 42 states and 7 territories. Each entry contains information on the states or territories topography, climate and history. Color plate of the major flags of the World, color diagrams and color charts, w/ woodcut engravings throughout in the text, illustrated ads on endpapers, Southern Pacific promotional leaf printed on pink-tinted paper, w/ woodcut engraving of the Hotel Del Monte, Monterey, California, offsetting and toning from the souvenir 4 page facsimile of the first Los Angeles Daily Times issued Dec. 4, 1881 as a promo with this atlas.
First edition of this premium atlas issued by the Times-Mirror Company and specially prepared by the Rand McNally & Co. publishing house in Chicago using their 1888 cartographic maps for most of the states and territories. This atlas features a special double-page map of California including an inset map of the San Francisco Bay area prior to the 1906 Earthquake & Fire, not offered by Rand McNally in their other atlases of the time, as well as a color-tinted Southern Pacific advertisement for the Hotel Del Monte. The atlas could be purchased for $ 5.00 from the Los Angeles Times at the time, or was available free with a one year's cash subscription of $ 10.20 in the city, or $ 9.00 by mail, with an additional 30¢ postage needed for mailing. The maps executed by Rand McNally still depict Alaska & Utah as territories, and the Indian Territory (Oklahoma) still included with the map of Texas. The Territory of Alaska features a special group of woodcut illustrations and text. The original four page facsimile of the first issue of the Los Angeles Times is quite scarce, with stories of the explosive growth of San Francisco in Dec., 1881, and the Steamship Newport running through a school of whales. Worldcat locates 3 copies (Los Angeles Public, Huntington, MIT); No copies located of the Times facsimile issued as 1890 premium; See: Los Angeles Times, Monday, Nov. 24, 1890, Vol. XVIII, No. 173, p. 4.
Embossed brown cloth, gilt lettering & globe stamped on front cover, fore edges marbled (spotting & soiling to lower right corner front cover, some edge-wear, rubbing), still VG- copy.