Unrecorded Sleighs and Carriages Trade Catalog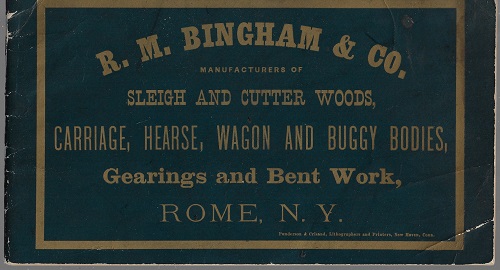 SLEIGHS AND CARRIAGES APPARENTLY UNRECORDED
Rome, New York: ca. 1875.
Oblong 8vo. 145 x 250 mm., [5 ¾ x 9 ¾ inches].30 pp. Illustrated with 30 color lithographs by Punderson & Crisand, Lithographers and Printers of New Haven, Conn. Bound in original green coated paper wrappers printed in gold ink; a crease at the lower corner of the front wrappers, a few chips and nicks, but otherwise an excellent survival, in very good condition.
Unrecorded trade catalogue, beautifully illustrated to highlight the simplicity of design and the quality of the wood used in the construction of all types of sleighs and carriages. Very little is know of R. M. Bingham & Co., and the only recorded reference is to an advertisement for the company in an undated catalogue for Palm & Fletcher of New York City, who sold carriage ornaments and artistic supplies.
The lithographer was Punderson & Crisand, a New Haven printer who did most of his work between 1870 and 1879. The company is known for its views of New Haven, images of the harbor, the Yale College year book of 1870 and a series of maps of New Haven and the surrounding counties.