Why Colored People in Philadelphia Are Excluded From The Street Cars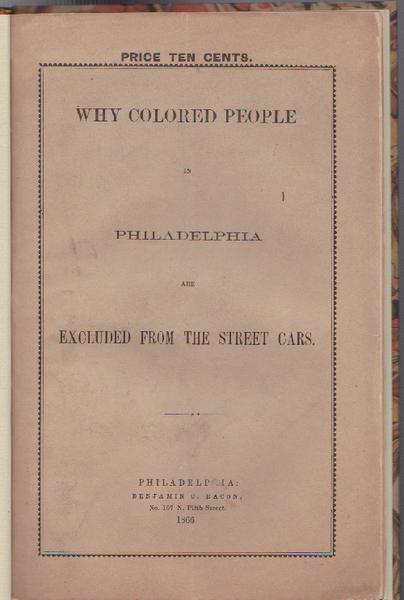 Hunt, Benjamin Peter? Kelly, William D.? WHY COLORED PEOPLE IN PHILADELPHIA ARE EXCLUDED FROM THE STREET CARS. Philadelphia, Merrihew and Son. 1866. Printed wraps bound in a modern marbled cloth. 27 pgs. Vg cond.
The exclusion was an early post-war Jim Crow initiative. The pamphlet recounts efforts to reverse the denial of Negroes' access to streetcars, and the stubborn resistance to those efforts. The Major did not want "the ladies in my family to ride in the cars with colored people." Other citizens and interest groups agreed. Recommending that "every right and privilege be extended" to Negroes, the pamphlet yearns for the days when "war-made abolitionism had not all melted away." "In January 1865 the issue of segregated transport became a national cause celebre when Robert Smalls, a black war hero, was ejected from a Philadelphia streetcar and forced to walk several miles to the navy yard where the Planter, the ship he had spirited from Charleston harbor nearly three years earlier, was undergoing repairs. Despite concerted efforts by the city's blacks and white allies, including banker Jay Cooke, integration did not come to Philadelphia transport until 1867, but New York City, San Francisco, Cincinnati and Cleveland all desegregated their streetcars during the war" (Foner, Reconstruction 28) "Nothing was done to correct the situation until the state legislature, not particularly sympathetic with Negroes, but less sympathetic to Philadelphia, passed a law ordering street-car lines to permit the riding of Negroes" (LCP Negro History Catalog). LCP 5505; LCP Negro History Catalog 171. Blockson 4375. Not in Work, Weinstein, Eberstadt or Decker.