World War I Sketchbook of Bernard Eric Bernhartd Evander - 1918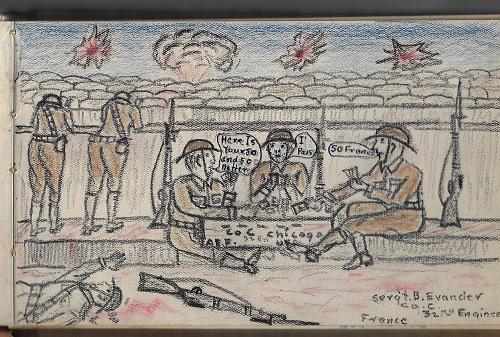 In total there were originally 30 drawings. However at some point one of the drawings was removed from the book. Of the remaining 29 there are eight which are in color, 21 in black and white of which three of these are double paged or panoramic. Each of the drawings are identified as being drawn by Sergt B Evander. The drawings are in a designated artist book and contain the original pencil still in the pencil slot at the bottom of the binding. The sketchbook is 4 5/8 x 7 inches overall. With the sketchbook are also 8 pieces of poetry which Evander has written with one of them being on American Y.M.C.A. stationary. It is a sewn spine which is somewhat loose at several pages, but those pages have not separated from the binding. Overall with this exception it is in vg cond. The piece is $2875.00.

Bernard Eric Bernhartd (DeVander) Evander was born in 1893 in Sweden. He immigrated from Sweden in 1909 and moved to the Chicago area, probably Cook County, as records show that in April 1916 he was initially denied citizenship. In 1918 he was naturalized and joined the US Army. Evander sailed from Hoboken, NJ on the USS Leviathan with Co. C, 32nd Engineers, American Expeditionary Forces and eventually ended up serving in France. After the war he came back to the Chicago area and worked for the railroads.
The USS Leviathan was originally built in Germany and sailed for the Hamburg American Line beginning in 1914. Her passenger days were cut short as she was seized by the U.S. government and on September 6, 1917 she was re-designated SP-1326, renamed Leviathan and turned over to the U.S. Navy. Her German crew was sent to the Hot Springs, NC internment camp where many of the crew died of a typhoid fever outbreak in the summer of 1918. Prior to the November 11, 1918 armistice the ship had transported over 119,000 military men including the famous film star Humphrey Bogart who served as the Chief Quartermaster, the senior enlisted man of the Navigation Division. On October 29, 1919 the USS Leviathan was decommissioned, turned over to the U.S. Shipping Board and docked at Hoboken, NJ.
The American Expeditionary Forces in France were established on July 5, 1917 under the command of Gen. John J. Pershing. They along with the British Army, the French Army, Canadian Army and Australian Army fought against the German Empire. The AEF fought with the French Army on the Western Front during the Aisne Offensive at the Battle of Chateau-Thierry and Battle of Belleau Wood, in the summer of 1918, and fought its major actions in the Battle of Saint-Mihiel and the Meuse-Argonne Offensive in the latter part of 1918.