Wyoming Territory Series of Cowboy Letters "I Suppose I Will Be Bankrupt In The Spring But I Am Young and Tough and Can Commence Over."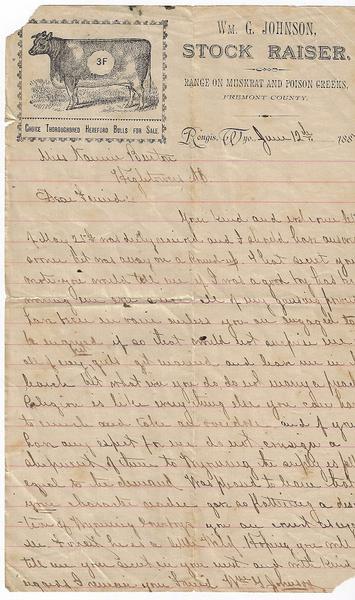 HE COULD NOT YET KNOW IT, BUT THIS WINTER OF 1886-87 WOULD BE THE HARSHEST IN MEMORY AND PROVE THE DEATH KNELL FOR WYOMING'S CATTLE BOOM.
"STOCK MEN ARE LOSING A GREAT MANY CATTLE THIS WINTER AND IF THE HARD WINTER CONTINUES I AM AFRAID THE LOSSES WILL BE VERY LARGE IT IS THE HARSHEST WINTER I HAVE EVER SEEN IN THE WESTERN COUNTRY I SUPPOSE I WILL BE BANKRUPT IN THE SPRING BUT I AM YOUNG AND TOUGH AND CAN COMMENCE OVER."
[Wyoming Territory--Cattle Ranching]: William G. Johnson letter archive of 15 manuscript courtship letters written by William G. Johnson to Miss. Nannie Burton of Hightowers, North Carolina. Wyoming Territory, 1885-1888. Each letter 1-4 pages with a total of 43 pages. Light wear and soiling; with four accompanying postal covers; very good.
When he and his wife, Ellen, sat for an interview with Alice Shields from the Annals of Wyoming in 1937, William G. "Billy" Johnson had lived in the Cowboy State since its territorial days, having arrived as a range rider for Tom Sun's ranch in 1882. In the half-century since, he had served as mayor of Lander, sheriff of Fremont County, and state legislator in Cheyenne. Much of the interview focused on his time as a cowhand, herding cattle for Sun and other ranchers, as well as for himself. For all of the joys he recalled of life as a cow-puncher, he also remembered the drawbacks--not least of which was loneliness. As he observed, "there were no women within a hundred miles of us--if a ranch-man happened to have a wife, she lived in town--the cowpunchers [sic] cabins had signs posted 'No women or barbed-wire allowed'" (1941:206). Yet before he met and married Ellen Heenan of Lander, Johnson had courted Nannie Burton, a young woman from North Carolina whom he had never met (and, so far as we can determine, never did). This archive of 15 manuscript letters, beginning in December 1885 and running through June 1888, documents Johnson's extended, 2 1/2 year exchange with Miss Burton.
As a collection, his correspondence offers a rare, first-hand account of life on the range, written by an actual cowboy during the final years of the Wyoming cattle boom.
Billy Johnson was born William Gale Johnson in Uncasville, Connecticut, in 1861. His father and grandfather were both seafarers. Grandfather William regularly sailed his ship to South America for woods that he processed in his dye mill in Uncasville. Nicholas, his father, obtained a ship of his own, working the African ivory and guano trade. When William's mother died a few years after his birth, Nicholas left William and his sister with relatives and moved to Iowa. William joined him later, but then in 1879, at the age of 18, he left the farm near Des Moines and made his way farther west. He stayed in Cheyenne briefly but ended up in Colorado, where he found work as a ranch hand and learned to ride the range. Two years later, in the spring of 1881, he returned to Wyoming and went to Carbon County, hiring on at the ranch of Tom Sun.
Wyoming boasted larger cattle ranches than Sun's, but few were more storied. Indeed, as The Cheyenne Daily Leader put it in December 1882, "the eastern person of inquiring turn of mind who writes to his friends out west to ask what a ranch is like would find his answer in a description of Tom Sun's." A French-Canadian, Sun had likely come to Wyoming at about the same time as the Union Pacific in the 1860s, working as a trapper in the mountains near Sweetwater Creek. In 1872 he built a cabin there--now a National Historic Landmark on the Oregon Trail, near Devil's Gate and Independence Rock--and shifted his focus to ranching. By the early 1880s, when Johnson arrived as a range rider, Sun's operation was among the territory's most successful, with 14 square miles of well-watered land that sustained about 6000 head of cattle.
Johnson began writing Nannie Burton on December 30, 1885, about five years into his work on Sun Ranch, while visiting with his family in Uncasville during the Christmas holiday. He learned of Nannie from his uncle, C. J. Johnson, with whom he writes that he had been "discussing Western and Southern people." Uncle C. J. "claimed that Southern People were very superior to the New England people and he was very complimentary especially to the Southern Ladies among whom he regards you as in all respects the most attractive representative he ever had his pleasure to meet in his southern travels." Having great confidence in his uncle's judgement, Johnson took the bold opportunity to send Miss Burton a note. She must have replied to his letter quickly, and with some enthusiasm for a correspondence with this westerner, for Johnson wrote back on January 18, 1886. Burton's letter had reached him just in time, as he planned to return west the following day. Her future letters, he noted should be mailed to "Wm G Johnson Ferris Carbon Co. Wyoming Territory. He anticipated a continued exchange, despite the distance: "so you see we will be miles apart as you say—I hope our correspondence will be instructive and interesting and beneficial to us both[.] in a few days I will be miles from here in a wild country long ways from civilization and letters are very welcome to me[.] my correspondence is very limited."
Johnson wrote again on February 25, just after arriving in Wyoming: "I returned from the east yesterday and found considerable mail at the Ranch which needed my attention among which was your letter." After visiting with family in Connecticut, he had stopped for three weeks in Iowa to see his father. Burton must have inquired about the western landscape, because Johnson offers a rich description of its appearance near the end of winter:
"The scenery is very pretty now in the valleys there is no snow while the mountains are covered and at a distance they look like great white clouds[.] the country is very mountainous and broken and it is more beautiful in winter than summer[.] the valleys look brown and sober while the mountains are white and the whiteness is releaved [sic] by large bodys of Pine timber which is always green…"
The description continues in his subsequent letter of March 22:
"...in Wyoming we have the finest weather imaginable but as it is always blowing it makes it very disagreeable at all times Night or day we have a strong steady wind. "
At this point in the letter Johnson begins to share some details about his work on the ranch and the seasonal nature of life on the range:
"Stock raising is the principle business here but mining is carried on to a great extent and also farming to an extent everything that is raised in a Northern Country is raised here except corn, small grains are raised in abundance but it is all done by irrigation." ".....work will soon commence on the range as soon as cattle are stout enough to handle. Cattle are at large here the year round the same as deer and elk and in the summertime we brand our calves and geather beef for the Chicago market. We do not feed our stock any thing at all summer or winter the grasses on the plains and mountains are growing and the feed is very nourishing and strengthening. We commence work about the middle of May and work until the first of Nov. and in the winter season our labor is very light and at times it is very dull and there are no citys to speak of of any size and the dullness is only enlightened by an occasional trip east or south where a person can mingle in society and attend Balls Parties & sc. Last winter was my first visit East in eight years and as I enjoyed myself so much that the quiet everyday life of the west makes me a little homesick but as my business and occupation of life is here, here I must stay, and my long sojourn in the west has unfitted me for the east and eastern ways."
By April 22, when Johnson next wrote, he and his fellow cow-punchers were preparing for summer:
"...Everything is like summer now the grass and trees are green but the Mts. Still retain their winter coast of snow which makes a big contrast in comaprison on source of the western Mts, the snow stays the summers and I have walked over drifts sixty feet deep that probly had been accumulating for years and years at least the same drifts had been their since the earliest ____ of the oldest settlers. We commence rounding up cattle now in a few days and when we commence we work hard all summer camping out without tents or houses the only house the sky above we do our own washing and cooking. It is very disagreeable sometimes especially when it rains…..Cattle raising and Mining are the chief industrys of this country. There is not much attention paid to farming although all kinds of crops that are grown in the world can be raised except Corn. Vegetables and such grains are raised in profusion. Ranches here in this country generally raise a small garden but out side of that their farming is a failure but settlers are coming in very fast and in a few years this will [be] quite a farming state[.] I think the population of Wyoming will double in the next three years."
There is a gap of three months before Johnson's next letter of July 15, during which he was away "on the Round-up." The weather was unusually hot, Johnson reports, a condition he knew could portend real trouble for the winter months to come:
"We are now having the meanest weather I ever knew in Wyoming. the temp. indicates 108 deg. which is very warm for Wyoming but the nights are cool that is one redeamable feature in this country we always have cool nights. The dry hot weather is ruining our winter feed for cattle for I presume you are aware we do not feed in the winter. the cattle get their winter food in winter the same as in summer and we do not feed a pound of hay."
Johnson was right: the hot dry summer of 1886 was dramatically reducing both the quality and quantity of feed available for grazing on the range, and the herds grew thin and weak. More than three months passed before he wrote again, with the snows upon them early. He could not yet know it, but this winter of 1886-87 would be the harshest in memory and prove the death knell for Wyoming's cattle boom. His letter of November 2 contains one of the earliest accounts we have found describing winter's unexpected arrival:
"The Round-up is finished, finished yesterday with 8 in. of snow on the ground and to day the wind is blowing hard and the snow is flying in all directions and in a few days [we] will go into winter quarters to stay until spring with nothing to do except read..."
There follows another three-month gap in Johnson's letters. Then, on February 3, he wrote that the worst was unfolding:
"Stock men are losing a great many cattle this winter and if the hard winter continues I am afraid the losses will be very large it is the harshest winter I have ever seen in the western country I suppose I will be bankrupt in the spring but I am young and tough and can commence over."
The next month, on March 28, Johnson returned to Wyoming after a very short business trip back east and found a letter waiting from Miss Burton. He responded that the hardest months appeared to be behind them:
"the snow is all gone and grass starting fine and Stock-growers are greatly encouraged looking at the future, the past winter has been so hard and losses so great that the present time weather greatly encourages them."
Altogether, Johnson's letters from July 1886 to March 1887 constitute one of the only contemporary, first hand accounts of the disastrous period known as the Big Die-Up, which all but ended Wyoming's cattle boom.
When Johnson next wrote May 6, he was optimistic about the likelihood of a quick rebound for the cattle industry:
"The busy season has commenced and the Cow Boys are busily at work and ride until winter sets in again the losses are not near so large as cattlemen thought they were going to be and prospects are very bright for this season." He also offered a remarkably forthright statement of the bond between a cowboy and his horse:
"By the way I willed you my favorite horse and a Cow Boys horse is his all in this world[.] take his horse and you take his life[.] in most settled countrys people have all manners of favorites some one thing and some another[.] the young ladys have their favorite dog and cats and the young men their best girl if they are lucky but in this country the young ladys are very scarce or more properly speaking there are none at all so the cow boy takes to his horse so you see the gift...was considerable."
Johnson's participation in the Round-Up of 1887 delayed each of his next three letters (of June 13, July 21, and October 18), and while these courtship letters contain few specific details of his work, he does note in the July letter that:
"The general Round-Ups are now over and last winters losses can be estimated very closely and my loss is not so heavy as I at first thought and I am well pleased with the result."
It was around this time that Johnson struck off from Tom Sun and bought his own small spread (in the Annals of Wyoming interview he recalled that he worked on the Sun Ranch for "five years or so" (1937:208). The correspondence between Johnson and Burton slowed at this point, as Johnson did not send another letter until February 21, 1888. Here he seems far more involved in the business of ranching, particularly in discussing one of Burton's acquaintances who may have lived in the territory:
"I do not think they are in the cattle business if they were I should probably heard of them as through a system of protection and association we have knowledge of all the cattle men and their brands that are in the territory."
Johnson is probably referencing the Wyoming Stock Growers Association, established in 1872 as the first such organization founded in the territory and only the second in the nation. He also offers Burton a wonderfully detailed description of a Wyoming ranch, perhaps his own:
"I will try and describe a Wyoming Cow-Ranch for you. Ranchmen in general being isolated from Railroads from 50 to 150 miles naturally derive their comforts & etc. from the natural resources of the country and their Ranch buildings are built of logs and stone generally logs. they are but one story high and often the dwelling houses contain 6 or 7 rooms built one after the other mostly in L shape[.] it is very unusual to see one finished inside with lathe and plaster but occasionally they are sealed inside with lumber (that is the walls are boarded up and the ceiling is of boards) but as a general thing the walls inside are hewed and then whitewashed. The ranchmen that are married reside in town that is some town along the railroad where they can get the comforts and most of the luxuries of life their wife and family spending the summer on the ranch."
Despite what we suspect were Johnson's best efforts both to describe his situation honestly and to share his enthusiasm for its possibilities, there is only one more letter in the archive. This one is written on his own letterhead, identifying him as "Wm. G. Johnson, / Stock Raiser, / Range on Muskrat and Poison Creeks. / Fremont County" and including a small inset engraved illustration of a Hereford bull. In the letter, dated June 12, 1888, Johnson refers to a secret that Burton alluded to in her previous note of May 25:
"all of my guessing powers have been in vain unless you are engaged to be married if so that would not surprise me as all of my girls get married and leave me in the lurch but what ever you do, do not marry a preacher Religion is like everything else you can have to [sic] much and take an overdose." Indeed, Nannie Burton married W. J. Trollinger in September, and the correspondence appears to have ceased. Johnson did not mourn her loss for very long, though, as he met Ellen Heenan of Lander, Wyoming, just a few months later. As Ellen recalled much later in their 1937 interview, "I saw him riding into town on 'Black Smith' in a great cloud of dust and waving a gun in each hand. That was when he took my eye. 'Black Smith,' the great brown horse later became my very dear pet" (1937:213). William and Ellen Johnson would remain husband and wife until his death in Lander on March 27, 1950. And for the rest of her own life, the former Miss Nannie Burton would save these letters from her cowboy suitor.
Relevant sources: Bowen, A. W. & Co., editors 1901 Progressive Men of the State of Wyoming. A. W. Bowen & Company, Chicago.
Knowlton, Christopher 2017 Cattle Kingdom: The Hidden History of the Cowboy West. Houghton, Mifflin, Harcourt, New York.
Shields, Alice M. 1941 The Life Story of a Fremont County Pioneer Couple. Annals of Wyoming 13(3):203-216.