Broadside Ballad - The Confession of John M'Affee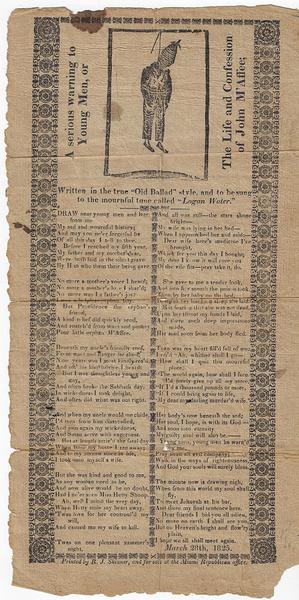 [Ohio--Broadside Ballad]: A SERIOUS WARNING TO / YOUNG MEN, OR / THE LIFE AND CONFESSION / OF JOHN M'AFFEE [caption title]. Dayton, Ohio, March 28, 1825. Printed by R. J. Skinner, and for sale at the Miami Republican Office. Broadside. 6 3/4 x 13 in. (17 x 33 cm). Untrimmed, old folds with small pinholes costing no text, small stains, edge wear, lightly tanned. Overall very good. Morgan 8431, not in McMurtrie or McDade.
McAffee's Confession: The First Printing of an Iconic American Ballad
The folk ballad is among the earliest Anglo-American musical traditions, having deep roots in the oral, vernacular cultures of England, Scotland, Ireland, and Wales. With the advent of cheap paper in the early 16th century, balladry was expanded by the profusion of published broadsides and broadsheets, which opened a new mode of communication in literary, printed contexts. Yet each format--the spoken and the printed word--would later develop in tandem, as many traditional folk ballads found their way into print and some broadside ballads took root in folk tradition. Like most of the genre, this rare broadside ballad, "A Serious Warning to Young Men, or The Life and Confession of John M'Affee," is based on an actual event, in this case the execution of the titular character at Dayton, Ohio, in 1825 for the murder of his wife. Less commonly, though, the ballad of John McAffee, under the title "McAfee's Confession" or "Murdered Wife," would become one of the most widespread spoken word ballads of the 19th century, with versions of its lyrics recorded by folklorists from Virginia to Iowa and Missouri. Printed at Dayton on the occasion of the actual McAffee's hanging, this striking broadside not only contains the original composition, but is the only printed version of the ballad to appear until the early 20th century. Known in only two other copies, it is the earliest broadside ballad printed in the trans-Allegheny West.
"The Life and Confession of John M'Affee" was published by printer Robert J. Skinner on March 28, 1825, at the offices of the Miami Republican newspaper. On that date, more than five thousand citizens of Dayton and nearby villages massed at what was then the edge of town, near the rain-swollen Miami River, to witness Montgomery County's first public execution. Less than a year before, a young man named John McAffee had committed what is believed to be the first murder in Dayton, and now the multitudes had gathered to witness him hang. McAffee seems to have been born about 1803 in Huntington County, Pennsylvania, just over a hundred miles east of Pittsburgh (all of the known details of McAffee's life come from this broadside or a small pamphlet that Skinner published simultaneously, summarized by Howard Burba in an article for the Daily Dayton News, Nov. 23. 1930). Orphaned at the age of five, McAffee was taken in and raised by an uncle who provided him a "friendly roof." Developing wanderlust as a teenager, he ran away from his uncle's home and some years later found himself in Dayton. Dayton in the early 1820s was still a new town, incorporated in 1805, with a population of just about a thousand people. Even so, it was Ohio's fifth largest community, nearly three times larger than Cleveland. McAffee was 18 when he arrived and soon met the daughter of a prominent early family--her name is apparently unrecorded in any of the surviving sources--whom he married the following year. They were happy for a brief time ("But she was kind and good to me / As any woman need to be"), but McAfee soon fell back into his old ways of gambling, drinking. and other
wickedness. Worse, he became infatuated with another woman, "Miss Hetty Shoup," who resided at the home of a neighboring family. County records indicate that Shoup encouraged McAffee's affections and imply that she played an accomplice's role in subsequent events. On the evening of June 20, 1824, he came home with medicine for his wife, who had been ill with "vile fits." Yet McAffee's supposed cure was poison, and she quickly lapsed into a deep slumber. An impatient McAffee, unsure his poison had worked, then strangled her to death. He hid her body beneath the bed, and wanting nothing more to do with Miss Shoup, fled the house and disappeared. The body of McAffee's wife was discovered soon after, but despite weeks of searches, the murderer himself was not to be found. After several months passed, early in the autumn, McAffee reappeared in Dayton. He was recognized almost immediately, arrested, and arraigned on a charge of murder. He told his captors that he had hidden in an abandoned building for three days, then walked into western Virginia and found work in a coal mine until he was overcome with a desire to revisit the scene of his crime. A trial was held later that year, and after a short deliberation the jury returned a verdict of guilty. While awaiting his fate, McAffee supposedly wrote a confession in rhyme, which Skinner helpfully published in the form of this broadside. Given that the tropes of the broadside confession were well established by 1825, it is quite unlikely that these words are the murderer's own (though who can say as for the sentiment of remorse). In any event, McAffee made no confession from the scaffold and was hung on March 28, 1825.
Skinner's broadside bears the same date as McAffee's execution, so it was likely printed for distribution at the hanging. So, too, was the 14-page pamphlet containing a summary of court proceedings and the text of the judgement. While the broadside confession is illustrated with a crude woodcut of a hanging man, hooded and with his arms bound by his sides, the pamphlet wraps are illustrated with a woodcut coffin. Skinner had been a key figure in early Dayton printing since at least 1816, when he published his first issue of the Ohio Watchman, Dayton's fourth recorded newspaper. He would later be affiliated with the Miami Republican, on which press he probably ran off these accounts of McAffee's crime and punishment. In 1826 he would publish the town's first set of ordinances; Douglas McMurtrie (1935) located only a single copy of this book, held in the collection of Dr. A. W. Drury, though its present whereabouts is unknown. Likewise, only a single copy of the McAffee pamphlet and two examples of the broadside were known to have survived prior to the discovery of this broadside; one of each are held in the James V. Medler Crime Collection at the Clements Library, while a second copy of the broadside is included in the William F. Wade folklore collection in the Indiana State Library. While the historical context of McAffee's crime is all but forgotten, the confessional ballad appearing for the first time here in Skinner's broadside is not. Whether composed by Skinner, an anonymous poet, or McAffee himself, it has lived on in the annals of American Midwestern and Appalachian folk music, usually recorded as "McAffee's Confession" or "Murdered Wife." Albert H. Tolman, writing for the Journal of American Folklore in 1916, recorded an almost line-by-line rendition of the ballad first printed here, observing that: "This text was obtained through Mrs. Pearl H. Bartholomew from Mrs. M. M. Soners, both of Warren, Ind. The mother of Mrs. S. sang it to her almost fifty years ago in Ohio. Mrs. S. states that the poem records an actual occurrence, and that her mother knew Hettie Stout well" (1916:186). A much compressed and reworked variation of the ballad is listed as No. 68, "Young McFee," in Louise Pound's classic anthology American Ballads and Songs (1922:153-154). In the massive Ballads and Songs Collected by the Missouri Folk-Lore Society (1940:317), Henry Belden reports that versions of the song had traveled as far afield as North Carolina, West Virginia, Virginia, Indiana, Illinois, Iowa, Texas, Kentucky, and into the Ozark Mountains. Yet despite such extensive scholarly interest in the song and its social history, not a single early folklorist linked its origins to Skinner's Dayton broadside--so few copies exist, it was simply unknown. An important Midwestern imprint, introducing one of the most iconic and widespread ballads in 19th-century American vernacular culture.
Relevant sources:
Belden, Henry M. 1940 Ballads and Songs Collected by the Missouri Folk-Lore Society. The University of Missouri Studies Vol. XV, No. 1. Columbia.
Cox, John Harrington, editor 1925 Folk Songs of the South, Collected under the Auspices of the West Virginia Folk-Lore Society. Harvard University Press, Cambridge.
Burba, Howard 1930 The Day They Hung John McAfee. Daily Dayton News for Nov. 23.
Leach, MacEdward and Horace P. Beck 1950 Songs from Rappahannock County, Virginia. The Journal of American Folklore 63(249):257- 284.
McMurtrie, Douglas C. 1935 Early Printing in Dayton, Ohio. Printing House Craftmen's Club of Dayton and Vicinity.
Pound, Louise, editor and compiler 1922 American Ballads and Songs. Charles Scribner's Sons, New York.
Tolman, Albert H. 1916 Some Songs Traditional in the United States. The Journal of American Folklore 29(112):155-197.
Wilcox, Don 1994 Startling and Thrilling Narratives of Dark and Terrible Deeds. The Quarto 1(2):1-3, 8.