Plan Of The City and Environs of Quebec With Its Siege and Blockade By The Americans - 1775-1776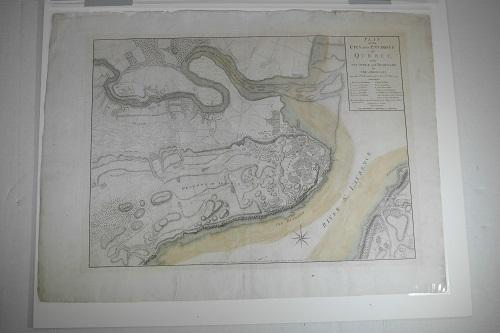 PLAN OF THE CITY AND ENVIRONS OF QUEBEC WITH ITS SIEGE AND BLOCKADE BY THE AMERICANS. From the 8th of December 1775 to the 13th of May 1776.
References: A. Bastion of Cap Diamant. B. Bastian of la Glaciere. C. Bastion of St. Louis. D. Bastion of St. Ursula. E. Bastion of St. John. F. Bastian of la Potaise. G. Porte du Palais. H. Governor's House. I. Lower Town Church. K. Nuns of the Congregation. L. The Place where Gener'l Montgomery begun his Attack on the 31st of Decemb'r between 4 and 5 in the Morning. M. le Saut du Matelot where Col'l Arnold made his attack on the 31st of Decem'r and was wounded.
Engraved by Wm Faden who was the Royal geographer to King George III and to the Prince of Wales. During his career, beginning in 1771, he published over 350 known maps, atlases and military plans.
Published: London, September 1776
Size: Colored Map: 45 x 62 cm. Sheet 55 x 74 cm.
This map was published in 1777 in Wm. Faden's The North American Atlas. It is one of the most important works of the American Revolutionary era. There were 29 maps in the atlas which included detailed battle maps drawn by eyewitnesses. This large scale plan of Quebec shows "the American artillery positions, indicating number of guns and the deployment of Arnold's troops on the Plains of Abraham. The fortifications of the city are delineated, and the 'references' include the positions where Montgomery and Arnold began their attack on 31 December 1775." Nebenzahl Battle Plans 44; Kershaw IV, 1041.