Arizona In 1937 - Photo Album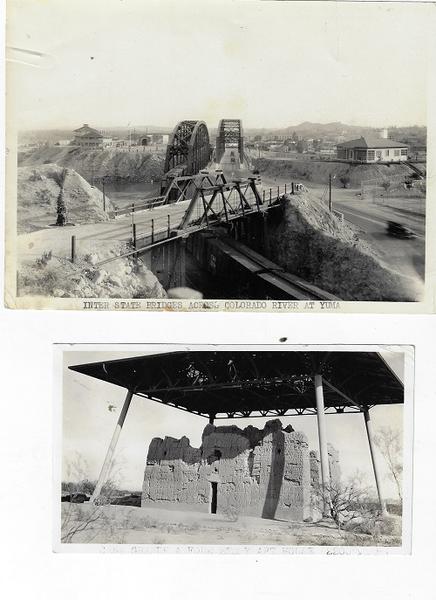 (Arizona) Photo album compiled by a California couple crossing through Arizona in 1937 in their 1935 Plymouth PJ 2-door sedan, with photos showing Yuma, the old wooden courd road across the dunes, the United Verde copper mine in Jerome, the Boulder day site and Casa Grande. Forty-Six leaves (unnumbered).], on thick black paper stock with 56 photos sized from from 2.75 x 4.25 in. up to 5 x 7 in. Many with either typed captions, or pencil/ink annotations in lower fore-edge blank margin, all mounted with black corners. Contemporary limp black cloth post-binder, blind-stamped embossed binding & borders front cover, punch-sewn at gutter margin w/ black braid.
This automobile road trip album opens with a crisp shot of the "Ocean-to-Ocean" bridge crossing the Colorado River, paired with the Union Pacific Railroad Bridge from Winterhaven, CA into Yuma, AZ, with panoramic view of the town of Yuma at the time, followed by further view of the Colorado River. In addition, there are several photos of the sand dunes between Yuma and El Centro, CA showing movement of the dunes alongside Highway 80, and portions of the old plank road constructed across the dunes from 1915-1926 by San Diego businessman Ed Fletcher to aid commerce into the Imperial Valley and Southern California. The couple visits Jerome, and the United Verde Mine which at one time was one of the largest copper mines in the United States, travel over the Hassayampa River, visit the Grand Canyon, and stopped at the newly built grave monument to Hi Jolly (Hadji Ali), the famed camel driver. In the 1850's Hadji Ali had immigrated to the U.S. as part of the US Cavalry's experiment with camels, and remained in the southwest, becoming a prospector, scout, and a courier for the Jackass Mail. He later became a freight hauler in and out of Quartzsite, AZ, then known as Tyson's Well. Several of the photos show the surrounding country side near the cemetery, the large cactus, their 1935 Plymouth, along with a view of the Desert View Court motel, with "Modern Cabins" for $ 1.25. Three photos show the Casa Grande Ruins National Monument, depicting the four-story adobe itself, the later protective roof, and interior shot. Along with shots of Roden Crater north of Flagstaff, there are several photos showing the Boulder Dam site and Boulder Canyon before the completion of what would later be named the Hoover Dam.
Expected minor wear, overall in vg cond.