The Vizina Consolidated Mining Company of Tombstone, Arizona - 1882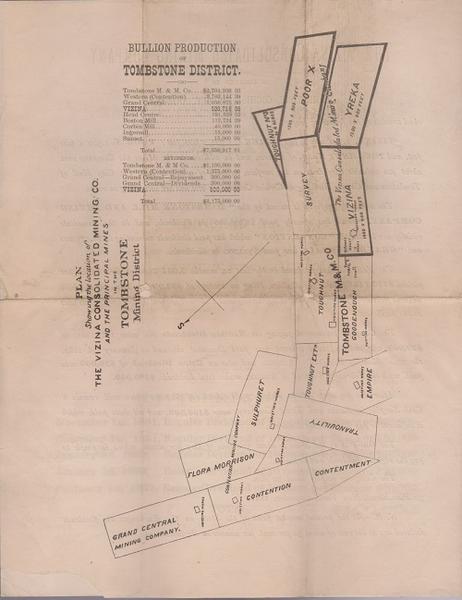 THE VIZINA CONSOLIDATED MINING COMPANY OF TOMBSTONE, ARIZONA.
1550
A 4-page dividend notice for the Vizina Consolidated Mining Company dated January 16, 1882. "The Trustees have declared from the earning the REGULAR MONTHLY DIVIDEND OF TEN CENTS per share, or $20,000, payable at the office of the Company, No. 30 Pine Street, on February 1, 1882 Transfer Books close January 26, 3 P.M., and re-open February 2, 1882." The rear map is titled PLAN SHOWING THE LOCATION OF THE VIZINA CONSOLIDATED MINING CO. AND THE PRINCIPAL MINES IN THE TOMBSTONE MINING DISTRICT. "The VIZINA has produced in the last 14 months 5,664 Tons of Ore, which has yielded $526,716.98 in Silver Bullion, being an average of $93.00 per Ton, out of which has been paid all expenses for the opening, development and improvement of the property as well as the dividends." The primary mining from the Vizina Mine was lead and silver with the secondary being gold. An interesting side note is that the Comstock and Grasshopper claims of the Vizina Mine were sold to Wyatt and Virgil Earp in 1880.
4 pages, small chip to bottom right corner of pg. 3 and 4 not affecting the print. OCLC locates one copy at Yale. Overall in vg condition.