Torchlight Drilling and Mining Association - Wyoming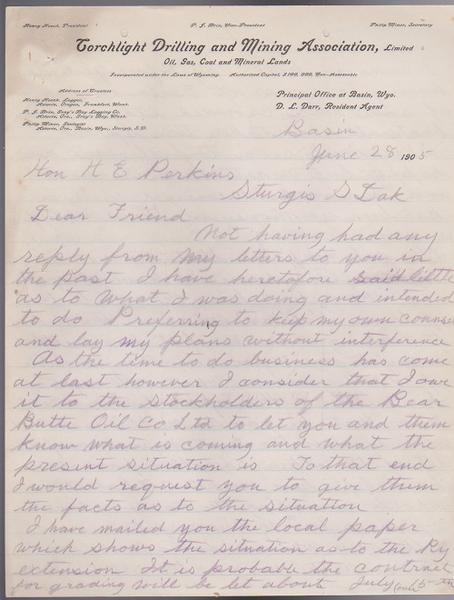 PHILIP S. MINOR - TORCHLIGHT DRILLING AND MINING ASSOCIATION BASIN, WYOMING 6-28-1905
(Wyoming Mining) Minor, Philip S. (1866-1920) was a geologist for the Torchlight Drilling and Mining Assn, Basin, Wyoming. This 4 page letter is written to Henry E. Perkins (1859-1927), banker, investor, Mayor of Sturgis, SD and South Dakota State Senator from Sturgis, South Dakota. The content is basically that Minor is writing optimistically to prospective investment backers about drilling for gas on promising land near site of proposed railroad, despite failures of several oil and gas companies in the area due to the biggest buyer, Rockefeller, showing little interest to invest in oil in the Basin, Wyoming region. Minor and Torchlight Drilling were apparently successful in this work as they had prosperous gas wells until the death of Minor in 1920.
The letter written on Torchlight Drilling and Mining Association letterhead reads:
Basin June 28, 1905
Hon. H.E. Perkins - Sturgis, S. Dak.
Dear Friend,
Not having had any reply from my letters to you in the past, I have heretofore said little as to what I was doing and intended to do, preferring to keep my own counsel and lay my plans without interference.
As the time to do business has come at last, however, I consider that I owe it to the stockholders of the Bear Butte Oil Co. Ltd, to let you know what the present situation is. To that end, I would request you to give them the facts as to the situation.
I have mailed you the local paper which shows the situation as to the RR extension. It is probable the contract for grading will be let about July 15th.
I came in here day before yesterday having laid over at Garland on account of rain and crowded stage. The rain beats all recorded records here this spring.
Sheepmen seem to feel rich and happy but most others are hard up, and more or less discouraged as there has been no money in the country for a year.
The oil companies that were making such a flourish in '93 have all quit and the natives have ceased to talk of them. "Collins", who came nearest to making a success of it, has settled down to wait for something to turn up. I told you once what I thought of his methods. His expectation is such now that he can do no business at all which involves the least degree of confidence. All of the other so called promoters have left here except C.F. Robertson, who is managing the Hanover Canal, which is fairly successful. L.A. Corey, who was doing such big things with gas on the stinking water has quit and stands charged with raiding the treasury of the Wyoming-Montana Co. to a standstill.
The real situation as to resources is as it was when I found it nearly three years ago, with just this difference - Instead of having unlimited confidence of every easy work which enabled all sorts of grafters to operate, it is now conceded by all, who don't know that Wyoming oil is all a fake, and never can be of any value, as Rockefeller won't use it, nor let any one else make anything out of it. Such is public opinion, and, as an offset, there will be a railroad within four miles of where I am going to develop the oil by Christmas, which will at least reduce the freight rates a little. As I see the matter, the whole thing is in ideal condition to follow up as a legitimate business proposition, and I pledge myself to make a success of it this time, or go off and learn another trade.
I was out yesterday to the place where I am going to drill, and took a shovel with me, I found in the course of an hour's digging that there is about three times as much of the surface dirt that has been saturated with oil as I supposed that there was, and I have more confidence than ever.
As I wrote to you last winter, I shall take a section of the land to develop for the "Torchlight Co., Ltd", and get you what I can out of the adjoining claims. So if you want any considerable interest in the producing part of it, is up to each of you to say how much.
The Torchlight Co. is entirely under my control now and will remain so as long as my methods are satisfactory to the other trustees (see letter head). The Co. owns a #8 star drilling rig, has about $1000 in the treasury, and over 700 shares unsold, price now $25.00 each.
Let me hear from you at once.
Yours sincerely,
Philip Minor Basin, Wyoming