Bangor, Me. Illustrated Catalogue. 1900. Seeds, Agricultural Implements, Dairy Supplies....
R.B. Dunning and Co.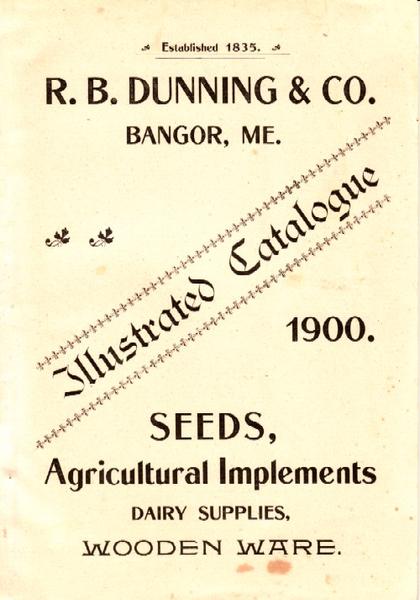 R.B. DUNNING AND CO. BANGOR, ME. ILLUSTRATED CATALOGUE. 1900. SEEDS, AGRICULTURAL IMPLEMENTS, DAIRY SUPPLIES, WOODEN WARE. (title page) BANGOR AGRICULTURAL WAREHOUSE AND SEED STORE. ILLUSTRATED AND DESCRIPTIVE CATALOGUE. R.B. DUNNING AND CO., WHOLESALE AND RETAIL DEALERS IN AGRICULTURAL IMPLEMENTS AND GARDEN TOOLS, GARDEN, FIELD AND GRASS SEEDS. CEMENT, LIME, HAIR, PLASTER AND FERTILIZERS, WIND MILLS, PUMPS, GALVANIZED IRON PIPE AND PIPE FITTINGS, WOODEN WARE AND DAIRY SUPPLIES. Bangor Commercial Print. 1900. 100 pgs. Printed wraps, illus., info, sizes, cost, order sheet tipped in, etc. Vg cond.