The Pennsylvania Gazette - December 3, 1747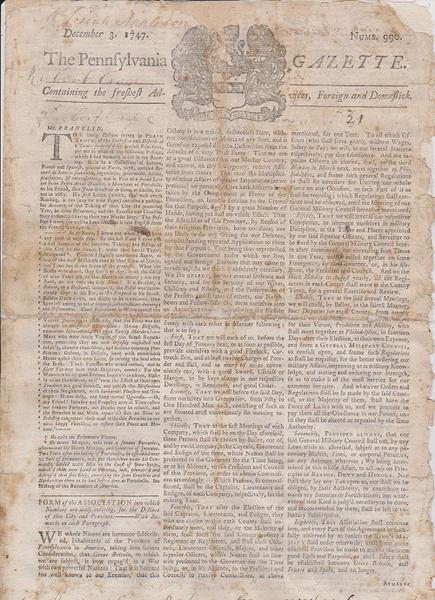 Philadelphia: Printed by B. Franklin, Post-Master. 4 pgs. 3 columns. Separations at old fold lines archivally repaired with loss of part of a line along a horizontal fold of the first leaf. Infill of paper loss at upper margin on first leaf, just touching masthead image. Loss of most of a 4" x 4" corner at upper right of second leaf; now infilled with blank laid paper.
On October 2, 1729, at the age of 23, Benjamin Franklin purchased along with partner Hugh Meredith what would become the Pennsylvania Gazette from Samuel Keimer. The partnership was dissolved on July 14, 1730 when Franklin became the sole owner. During that year Franklin secured a contract as the official printer for the colony of Pennsylvania which secured the financial success of the Gazette. In time the Gazette became the leading newspaper of the province and the most influential newspaper in the colonies.
In 1748 Franklin invited Scottish journeyman printer David Hall to become a partner in the firm. At that point the publisher imprint would read Philadelphia: Printed by B. Franklin, Post-Master, and D. Hall, at the New-Printing Office, near Market. Franklin retired from the business as an active partner in 1748 and Hall maintained the printing business for the firm of Franklin and Hall. In February 1766, Franklin sold his share in the business to Hall. In May of 1766, Hall took as a partner his journeyman printer William Sellers which formed the partnership of Hall and Sellers. They carried on the contract of government printing, including paper money for the Province of Pennsylvania.
One of Benjamin Franklin's great skills was his ability to organize people. He founded or was instrumental in the creation of numerous organizations including the Library Company of Philadelphia, the American Philosophical Society, the Junto, the Union Fire-Company of Philadelphia and the Association for Defense. This last organization was essentially a private militia, formed by Franklin in 1747, in reaction to the Pennsylvania colonial government's unwillingness to provide security against the French and their Indian allies. Although the Association had a brief life, since the threat of war receded in 1748, it gained a membership of more than 10,000.
"The Form of Association into which Numbers are daily entering, for the Defence of this City and Province" appears on the front page of the December 3, 1747 issue of the Gazette. More than half of the second page is devoted to "Remarks" on the eight articles in the "Form of Association" explaining the origin and importance of each of the articles. The Gazette also includes international news from overseas newspapers, domestic news, classified ads, the return of runaway slaves, departing ships and announcements concerning the indentured servitude of residents. At the upper right is the name of the probable subscriber Josiah Appleton.
An important Pennsylvania Gazette especially so for the content and the fact that it was printed solely by Benjamin Franklin.