(Broadside) Northern Pacific Railway Co. - North Dakota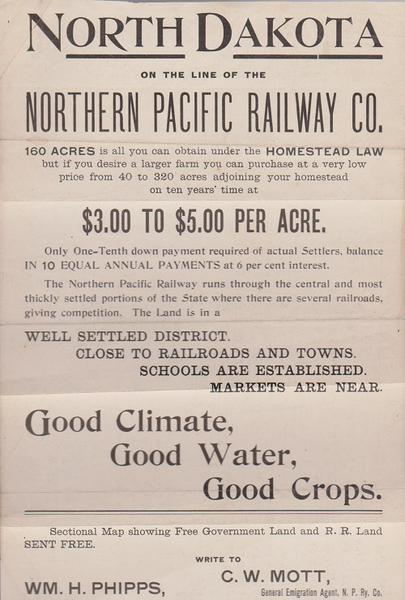 (Broadside) NORTH DAKOTA ON THE LINE OF THE NORTHERN PACIFIC RAILWAY CO. 160 ACRES is all you can obtain under the HOMESTEAD LAW but if you desire a larger farm you can purchase at a very low price from 40 to 320 acres adjoining your homestead on ten years time at $3.00 TO $5.00 PER ACRE.... WELL SETTLED DISTRICT. CLOSE TO RAILROADS AND TOWNS. SCHOOLS ARE ESTABLISHED. MARKETS ARE NEAR. Good Climate, Good Water, Good Crops....Wm. H. Phipps, Land Commissioner, N.P. Ry Co. ...C.W. Mott, General Emigration Agent, N.P. Ry. Co.
President Abraham Lincoln chartered the Northern Pacific Railway as the first Northern transcontinental railroad on July 2, 1864. It operated across the Northern tier of the United States from Minnesota to the Pacific Coast. That same year congress gave the Northern Pacific Railway almost 40 million acres of land grants, which it used to raise money in Europe for construction. On September 8, 1883 Pres Ulysses S. Grant opened the main line by driving in the "golden spike" in Western Montana.
The broadside dates between 1894 and 1904 based on the fact that Wm. H. Phipps, Land Commissioner, formerly of the Chicago, St. Paul, Minneapolis and Omaha Railroad became Land Commissioner on May 1, 1894 and left in 1904.
12 ½" x 8". Some sort of pencil mathematical statistics are written on obverse not interfering with the broadside. Vg cond.