Constitution and By-Laws of Co. H, Third Pennsylvania Cavalry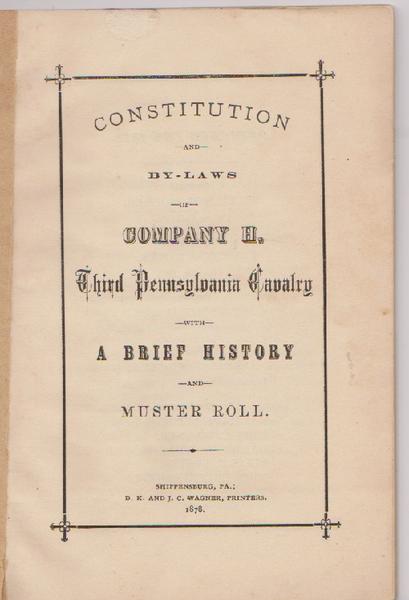 (Pennsylvania - Civil War) CONSTITUTION AND BY-LAWS OF COMPANY H, THIRD PENNSYLVANIA CAVALRY WITH A BRIEF HISTORY AND MUSTER ROLL. Authored anonymously. Presentation copy "Presented to E. Darrach, Eng by his friend the author. D. K. and J. C. Wagner, Printers, 1878. First Edition. 58 pp. Printed wraps, spine expertly reinforced. A very good copy of a scarce history of Company H, Third Pennsylvania Cavalry.
Produced by members of the regiment, one of the oldest cavalry organizations in the state, this book consists of their history, the constitution and by-laws of Company H's veterans, and a muster roll of the company's officers and men. At Gettysburg they provided key support to Brigadier General George A. Custers cavalry.
"By this time Miller's men [Company H] becoming so scattered, he was obliged to retire. On their way back the men were compelled to pass through the scattered rebel forces that Custer and the balance of the Third were driving, and had a good deal of hand to hand fighting. At the same time whilst Capt. Miller's command was charging, Captains Newhall, Treichel and Rodgers lead a charge against the Rebel right and front. Had it not been for these two charges, Custer would have been driven off the field. (p41)