John Henry Clifford - Prosecuting Jefferson Davis Manuscript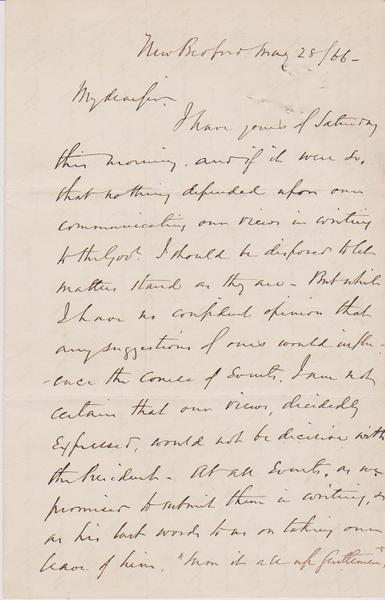 A letter written by Jefferson Davis" prosecuting attorney, John H. Clifford, writing to Andrew Johnson's future Attorney General, William Evarts, outlining the difficulties in trying Davis "in Virginia, or anywhere else in Rebeldom."
John Clifford letter in full:
New Bedford May 28/66
My dear Sir,
I have yours of Saturday this morning, and if it were so, that nothing depended upon our communicating over views in writing to the Govt I should be disposed to let matters stand as they are – But which I have no confident opinion that any suggestions of ours would influence the course of events I am not certain that our views, decidedly expressed, would no be decision with the President. At all events, as we promised to submit them in writing, and as his last words to us on taking our leave of him "sum it all up Gentlemen" indicated that he attached importance to them, can we property leave the matter as it stands?
I infer too from my conversation with Mr. Speed last week that he relies upon us to strengthen his hands through this medium and as he is somewhat impressible by outside influences, perhaps the conclusions we had reached, and in which he concurred, distinctly stated in writing, will be of service to him.
It is not desirable too, for ourselves that we should be able hereafter to show that we are not responsible for a course of action which we have had no share in directing and which certainly has not elicited the most favorable judgment of the country.
It is my settled conviction that the difficulties, in pais, attending a trial in Virginia, or anywhere else in Rebeldom, after all that has come and gone, are inseparable and I believe this is the opinion of the wisest people in and out of Congress and the only effect of Judge Underwood's proceedings has been to increase to some extent the difficulty of making the Country understand this. I have learned from the best source of information at Richmond enough to satisfy me, that a trial there would be little else than a grand ovation toe the great cuprit and his counsel, resulting in the failure of the prosecution as a foregone conclusion – ought we not to do what we may divert such a disastrous proceeding? I have these suggestions for your wiser consideration and shall be content with your judgments whatever it may be – I congratulate you upon "_____" in prospect. Au contraire I am looking towards that sulphamous region, Sharon, Early in June ____ my wife the benefit of its waters.
Sincerely Yours
John H. Clifford.
Mr. Evarts Docketed May 28, 1866 John H. Clifford
Jeff Davis Case
A very important and legible letter written on one sheet folded.
Clifford refers within the letter to James Speed and Judge Underwood. James Speed was the United States Attorney General under Lincoln and Johnson. Judge John Curtis Underwood was the United States District Court Judge for Virginia who presided over the grand jury that indicted Jefferson Davis for treason.
John Henry Clifford (1809-1876) "was an American lawyer and politician from New Bedford, Massachusetts. He served as the state's attorney general for much of the 1850's, retaining the office during administrations dominated by three different political parties. A Whig, he was elected the state's 21st governor, serving a single term from 1853 to 1854. He was the first governor of Massachusetts not born in the state."
"In 1865 Clifford was chosen to act as one of the special counsels prosecuting former Confederate President Jefferson Davis. Davis was to be prosecuted for treason, but for a variety of reasons the charges were eventually dropped after four years of political and legal wrangling. Clifford contributed to a debate in 1866 over the difficulty of prosecuting Davis in Virginia, noting that without essentially packing the jury, a failed prosecution would result in the awkward outcome of a Virginia jury in some sense overturning the outcome of the war. He resigned from these duties in July 1866." (Taken from Wikipedia.)
The case if the United States versus Jefferson Davis came to its end when President Johnson granted amnesty in December 1867, to everyone in the South including Davis. In February 1868, government attorneys agreed that on the following day a motion for non-prosecution would be made that would dismiss the case against Jefferson Davis. Thus the case of the century, possibly the most significant trial that would ever happen...never was.