Quaker Wayman Ferriss' Receipt Book - 1807-1816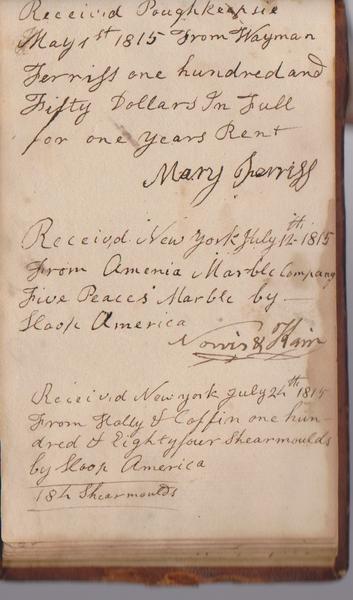 (Quaker Diary) Ferris, Wayman. Wayman Ferris was born on September 25th, 1771 to Deacon Benjamin Ferris and Mary, a Quaker. Wayman Ferris' birth is listed in the records of Oblong Monthly Meeting, 1771, as well as his disownment in 1793. His father, Benjamin was a settler of "Quaker Hill" near Pawling, Dutchess County, New York. He became a Quaker preacher and went to New Milford. "Quaker Hill" was so called from the early settlement by the Quakers of the range of hills lying east of Pawling Station, bordering on the state of Connecticut. Contrary to the prevailing Quaker stance, the Ferriss family was loyal to the American cause and the American Revolution.
The first receipts in this receipt book are written at Pauling, settling the estate of his father to his siblings, his mother, as well as other local Quakers to whom he owed money....Mary Chace, E. Walbridge, Polly Holloway, Sarah Howland. His mother, Mary signs for $200 in full, and settlement on the rent of their farm, etc. Wayman married Priscilla Dodge in the year 1800 at the age of 29. He died in 1846. In the 1820 Census of Poughkeepsie, Wayman Ferris, age 50, has 10 male children.
Wayman Ferris was the executor of his father's estate. This journal includes on 10-19-1808, a receipt signed by Mary his step mother, for $200 from last will and testament - in Pauling. In 1810 this journal becomes a mercantile record of local maritime history. Wayman Ferris is acting as agent for Joseph C. Dean who is listed as owning property off South Main Street in Poughkeepsie. Dean, a Quaker lived in Pleasant Valley.
The receipt book states that in 1812, Captain Ferris pays $34.25 in full for the Corporation Wharfage for the Sloop Sally Ann, of Poughkeepsie, Commencing May 1812 and ending the 30th April 1813 to a Wm. Smith. Several of the receipts name him Captain and at least one refers to him as Captain Ferriss, Master.
In a receipt dated June 20, 1812, it appears that he is shipping for multiple traders including Zephaniah Zells, Thomas Barlow, Thomas Elleson, Nathan Conklin Jr., Benjamin Lattin, James Kniker, Joseph C. Dean....Yet Ferris appears to be an agent exclusively for Joseph C. Dean and Co. of Poughkeepsie in most of the other transactions. Several receipts are also signed by Dean. He is selling items such as bushels of grain, anchors, produce, smoked beef, in large and small amounts. Beeswak, rakes, chops, planks of marble, keg of dry white lead, etc. Later in the journal we find several deliveries of anchors including 11 anchors weight 2,446 lbs and 11 anchors 2,321 lbs, all from Chittenden and Canfield. There are Neet (Net) returns for cows, calves, tubs of butter, firkins of lard, hemlock boards, reams of paper, flax, rags, chops, bushels of white corn, etc.
In April of 1812 there is an entry for Pleasant Valley Factory for one box of goods by B and J Corlis from named vessels including the Sloop Polly, The Sally Ann and America.
According to the Essex Instituted there was a sloop Polly (1801) which was 91 tons. It became a very successful privateer in the War of 1812. The Polly was driven ashore and captured in April 1814.
A Quaker's leather receipt book (6 3/4" x 4") with etched brass clasp, 168 pgs., most filled, written in ink and very legible. Overall in very good condition.