Rapport Sur Les missions Du Diocese De Quebec... 1842...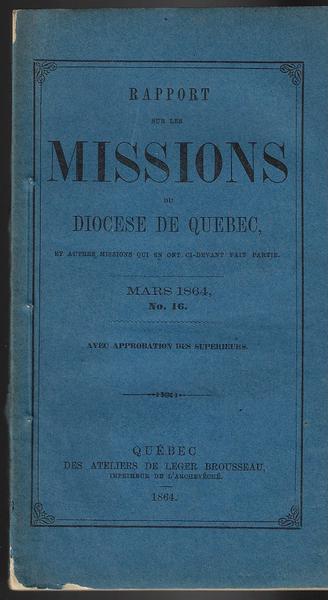 RAPPORT SUR LES MISSIONS DU DIOCESE DE QUEBEC, QUI SONT SECOURUES PAR L'ASSOCIATION DE LA PROPAGATION DE LA FOI; RAPPORT SUR LES MISSIONS DU DIOCESE DE QUEBEC, ET AUTRES QUE EN ONT CI-DEVANT FAIT PARTIE (Janvier 1849, No. 2; Janvier 1842, No. 4; Juin 1843, No. 5; Julliet 1845, No. 6; Juillet 1847, No.7; Mars, 1853. No. 10; Mars 1864, No. 16; Avril 1866, No.17. Quebec: De L'Imprimerie de Frechette & Cie, Imprimeurs-Libraries, No. 13, Rue Lamontagne; Des Presses a Vapeur D'augustin Cote et Cie; Des Ateliers de Leger Brousseau, January, 1840-April 1866.
Eight vols. in 7. [iii]-xii, 100; [2], 11-104; xii, 136 (plus 1 large folding woodcut-engraved plate); xvii, [1], 156; xii, [2], 129, [1]; xx, 140; 127, [1]; xxiii, [1], 150 pp. Nos. 2 & 4 bound in brown-colored buckram, binder's ticket on rear paste-down for Pioneer Library Bindery (No. 2 w/o title and preliminary leaf; No. 4 w/o 8 pp. preface); Nos. 6 & 7 bound in blue buckram, binder's ticket on rear paste-down for Pioneer Library Bindery (fore-edges trimmed); Nos. 5, 10 & 16 in original printed wrappers, No. 17 with printed soft-covers perished, still punch-sewn at gutter margin, remnants of soft-covers at spine -- in soft-covers with chipping & edge-wear, bumping to corners, rubbing, Nos. 5, 6, 7, & 10 all w/ manuscript annotations in the hand of Thomas Blanchet (b. 1793), older brother of Francois Norbert Blanchet (1795-1883) first bishop and archbishop of the Archdiocese of Oregon City, and leader of the Columbia Mission with Modeste Demers, w/ two bearing ownership inscription as well of St. Pierre, Riviere du Sud (present-day Quebec), the three bound vols. all bear ownership labels from Marylhurst College (later University), which had been the original recipient of the Blanchet family library at the end of the 19th century.
First editions of these reports issued by the Society for the Propagation of the Faith in Quebec, originally established by the Diocese in 1837, and then issued annually from 1839-1843, followed biennially until 1874. These accounts encompass descriptions of the efforts of Rev. Joseph Norbert Provencher, and Rev. Joseph Severe Norbert Dumoulin who established missions at Pembina becoming the first missionaries in present day North Dakota in order to service the former Northwest Company and Hudson's Bay Company fur traders who had intermarried with local Native Americans; the Columbia Mission to present-day Pacific Northwest and British Columbia by Father Norbert Blanchet who established his first mission at Cowlitz (Washington) in December, 1838 offering detailed accounts of his efforts at Fort Vancouver, Fort Colville, Fort Okanagan, Fort Walla Walla, as well as extended details on the Willamette River Mission; as well as a detailed memoir of Father Louis LeFebvre de Bellefeuille's mission to the First Nations in Upper Ottawa to Lake Abitibi; No. 4 includes Blanchet's accounts of interactions with the Chinook Indians, his travel to Whidby Island, correspondence with Father De Smet; No. 5 details the travels and efforts of the Columbia Mission, the Mission to Vancouver, the travels and work of Blanchet, Demers, & Bolduc to the Chinook, the Cowlitz Tribes, Demers in Colville, including as well further extracts of Bolduc's travels in Gambier, Tahiti, Hawaii, and Columbia River. Of particular interest in No. 5 is the large folding plate at the end which was a Chronological & Historical Ladder of Religion which was a visual teaching tool for local Chinook and Cowlitz tribal members at the Mission. The Catholic Ladder was first introduced as a four-sided "Sahale stock," then adapted later in 1839 for paper, providing an effective graphic approach to religious instruction. Nos. 6 & 7 both include extensive sections, journals and letters for the Columbia, Red River, and Atibi missions; No. 10 details the Missions at Hudson Bay, letters from Labrador Mission, and Vancouver Island Missions; No. 16 incorporates letters and journals of the Wamontashing Mission in the Northwest Territories, Red River Mission under Tessot, the Vancouver Mission by Modeste, as well as extensive section on Missionary efforts in Oregon, and finally No. 17 with sections on Missions to the Eskimos, the Northwest Territories, Oregon, and Vancouver Island. Wagner-Camp, 78; See; White & St. Laurent, Mysterious Journey: The Catholic Ladder of 1840, Oregon Historical Quarterly, Vol. 97, No. 1, pp. 70-88. In as described condition.