World War II - Conscientious Objector Internment Camps - The Compass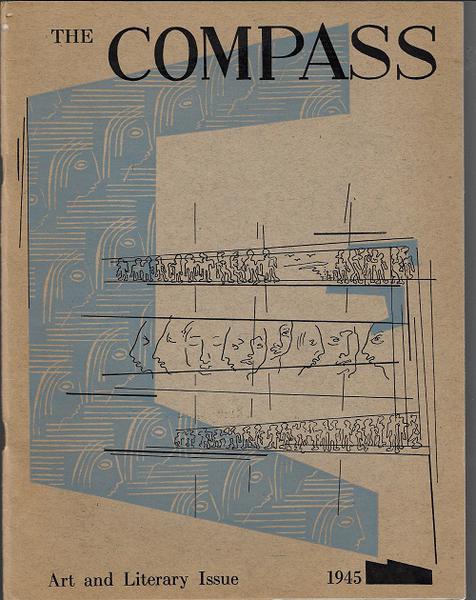 (WWII – Conscientious Objector Internment Camps) THE COMPASS. ART AND LITERARY ISSUE – 1945. An instrument of direction towards peaceful living. Ponch, Martin (ed.); Wilson, U. Adrian (Assoc. Ed.) Blocher, Henry, et al. Vol. II, Nos. 3&4….Waldport, Oregon and Cascade Locks: Civilian Public Service Camp (#50); Camp No. 21, 1945. 48 pp (unpaginated), printed on assorted different color-tinted papers, numerous woodcut and linoleum cut engravings, photo illustrations, text illustrations. Color-illustrated soft-covers with cover art by Wilfred Lang, promotional literature, and laid-in contents leaf, preserved in original printed mailing envelope addressed to Martin K. Howes (1904-1972) of Allegheny College, PA. Articles include The Art and the Market; The People As Patrons; Yet Must the Man Marvel; The Agitaor; Night Piece for Voice, Clarinet, and Piano; Prayer for Soldiers on D-Day; On Not Listening To Music, etc.
"This COMPASS comes to you, as has almost every other issue, late. We can offer no all-satisfying excuse. We feed our own composure with the following facts: Up to the present, COMPASS has been produced almost completely by voluntary labor of men conscripted into Civilian Public Service units and camps. As the years have worn on, the volunteering spirit among men who are already doing involuntary servitude has naturally tended to die or disappear. COMPASS has at times appealed to the undrafted pacifists and pacifist organizations for assistance in the mechanics of putting out and distributing a magazine which, perhaps naively, was conceived as belonging to the pacifist movement…..We shall continue to regret it if our hopes to come out more regularly are frustrated. But we can only do what we can do. With help, we may do more. We may even become the peoples' International peace magazine we have dreamed may be the proper post-war future for COMPASS."
Minor light toning, overall a very fine copy of a scarce publication.